We want to start 2005 by showcasing our amazing volunteers.  Without all the time and resources they donate, we couldn't save any of our beautiful Golden Retrievers.  Each month we feature one of our volunteers and how their help has become invaluable to our organization.  Here's a big "hats off" to our Volunteers!
 january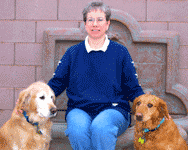 If you have a little extra time, and would like to volunteer for azgrc, we'd love to have you.  You would be joining a team of Golden Retriever lovers, who want nothing more than to give these beautiful dogs some of the love and joy they give to us. Please take a minute to visit our get involved page.  We could use your help, no matter how much or little you have to give.   Thank you! 
Our first "victim" not only steps up to the plate, but also, hits a home run every time.
While bowling one night, she met one of our board members and started talking about Golden Retrievers, (what else?) She offered to volunteer that very night. The next morning, just as she was sending us an email wanting to volunteer her time, we dialed her number. She couldn't believe how quick our response time was, "I just sent you an email!" When you say you're going to volunteer, we don't mess around!
From day one, she took to volunteering like a Golden Retriever takes to water. You call her and you know it's done, and done right. She is responsible for a good deal of our Golden transports, (picking up shelter dogs, delivering dogs to foster homes, getting owner-turn's, taking dogs to the groomers, to the vet, to our functions, you name it.) Within 5 months, she was so enthusiastic and dependable that she took over Maricopa County licensing – a monumental task. She is now responsible for transferring all of our adoptable dog-pet records and licensing our new dogs. I cannot say enough about how much her help keeps this organization up to speed. And if that weren't enough, she took it upon herself to volunteer her time for "Gotcha Day," (our annual Golden get together for our adopted Goldens and their families,) and she donated the 3 beautiful raffle prizes, which made for a fun and successful fundraiser. You think we're done? Just recently, despite upsetting her beloved cats, she became an emergency foster and found the perfect family for Ben, one of our rescued Goldens. Just this Christmas, she turned down a job offer because she did not want to take time away from volunteering for AZGRC.

Thank you Fran Cook for everything you do. You are amazing.